Diamonds by Pandora
The Diamonds by Pandora collection features lab-created diamonds that are made using only renewable energy and set in 100% recycled silver and gold.
What are lab-created diamonds?
The diamonds in the Diamonds by Pandora collection are grown in a lab. They are optically, chemically, thermally, and physically identical to mined diamonds but created above ground. And we know the origin of every single one. They are a remarkable example of how innovation can replicate nature's process.
Pandora's lab-created diamonds are grown using the Chemical Vapor Deposition technology (CVD) that results in a diamond rough. The rough diamond is cut and polished into unique, individual diamonds the same way that diamonds have always been cut and polished.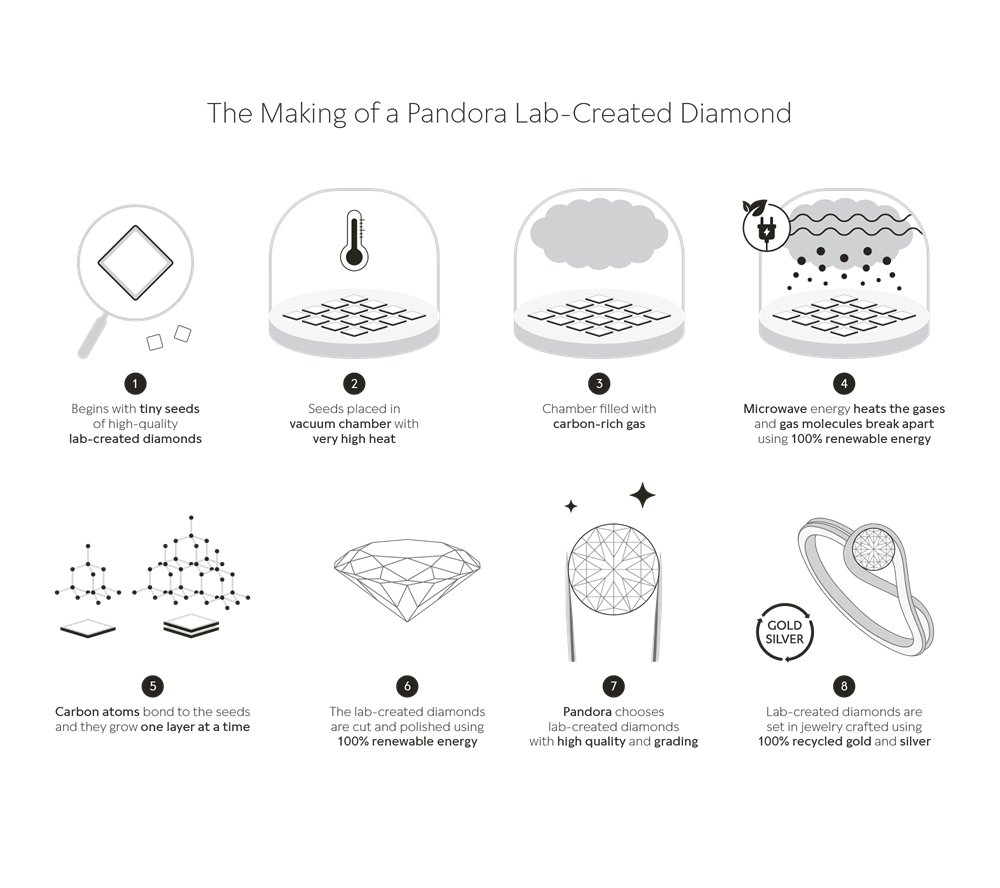 How does the Diamonds by Pandora collection have a lower environmental impact?
Renewable energy used to make the lab-created diamonds
Our lab-created diamonds are grown, cut and polished using 100% renewable energy. As a result, a finished Pandora lab-created diamond has roughly 8.17 kg of carbon emissions per cut and polished carat. This means its carbon footprint is 95% lower than that of a mined diamond of the same size.
Recycled silver and gold
The lab-created diamonds are set in jewelry that are crafted using 100% recycled silver and gold. This is a landmark achievement for Pandora, making Diamonds by Pandora the first collection crafted with 100% recycled precious metals:silver and gold. By 2025, all our products will be made with recycled silver and gold.
Carbon footprint
Because we only use renewable energy and recycled metals, we manage to significantly reduce the carbon footprint of the Diamonds by Pandora collection. For example, a gold ring with a 1ct stone has a carbon footprint of just 10.4 kg, which is less than the average emissions of a pair of jeans. For further details on our carbon footprint assessment read here.
The lab-created diamonds are grown in the U.S. and point to a future of low-carbon jewelry. For perspective, if all diamonds were mined with the same low carbon footprint as Pandora's lab-created diamonds, it would save more than 6 million tons of CO2e annually (according to S&P Global and Natural Diamond Council) – this is similar to replacing all cars in New York City with electric vehicles (according to EPA, FHWA and DMV).
Responsibly sourced materials
All suppliers of Diamonds by Pandora take part in our Responsible Sourcing Programme, which ensures that they adhere to strict ethical , social, and environmental requirements outlined in our policies here.