Brand protection
Like many other global brands, we are facing the challenge of counterfeiters copying our designs, violating our brand and free riding on our goodwill.
We do not tolerate counterfeiting and we operate an anti-counterfeiting programme against manufactures and distributors of Pandora counterfeit products.
The programme includes removal of fake websites and counterfeit auctions, investigations, raid actions, customs and police seizures as well as civil and criminal actions against counterfeiters.
Have you seen a counterfeit product?
If you wish to support us in the battle against counterfeiting, please report your findings of Pandora counterfeits to our Brand Protection team, by sending an e-mail to brandprotection@pandora.net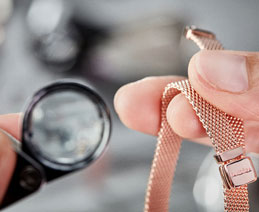 Counterfeiting is an illegitimate business and a criminal offence in most countries. Counterfeit products are in general of poor quality, crafted under poor working conditions and may have safety issues and cause harm to consumers.
By purchasing your jewellery from an authorised Pandora dealer, you ensure that your Pandora product is authentic and of our high-quality standard, crafted under conditions aligned with our values, that our warranty policy covers and that you can benefit from the support of our customer service staff in many countries around the world.
On www.pandora.net you will find an overview of Pandora products and a store locator, which you can use to find your authorised Pandora dealer.